December 12th, 2017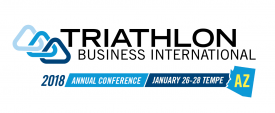 January 26-28, 2018 ~ Tempe, AZ ~ Where the Business of Triathlon Gets Done
Austin, TX – December 12, 2017 – Triathlon Business International (TBI)is scouring the world looking for triathlon events that are the "Triathletes Choice" for best-of races in four categories: large event; small event; bucketlist event; and best intro event for beginners. Triathletes Choice event winners will be honored at the 2018 Annual TBI Conference, January 26-28, 2017 in Tempe, AZ, and will share the spotlight with the Ron Smith and Steve Hed Award winners, plus the best triathlon published articles and photographs, and event and product videos in the world.
The "Triathletes Choice" award criteria encompasses events around the world that:  challenge, inspire or bring out the best in participants; create an atmosphere of fun, excitement and energy; go beyond the "call of duty" when it comes to customer service, great organization and information, reasonable fees, coaching/advice, race day assistance, great volunteers; and/or, raises money for charitable causes.
What is your "Triathletes Choice" for:
Best Large Race (1,000+ registrants)
Best Small Race (less than 1,000 registrants)
Bucketlist Race
Best Intro Race for Beginners
Nominate your event at:  https://www.surveymonkey.com/r/TriathletesChoice
Triathletes Choice nominations must be submitted through the Triathletes Choice Survey Monkey form no later than December 24, 2017.  The top five nominated events in each of the categories will be announced on January 2, 2018 and triathletes will have one week to vote on the top event in each category.
As always, the 2018 TBI Conference will be packed full of information and opportunities for everyone involved in the business and sport of triathlon. This is where the business of triathlon will get done. In addition to the main sessions, the conference has three topic tracks for race directors/services; retail/manufacturers; and coaches/clubs. The topics for each track are detailed on the conference web page. Registration is open through ACTIVE.com. Currently registration fees are $475 for TBI members and $575 for non-members.  Registration costs go up on January 1, 2018.
Companies interested in conference sponsorship or Expo space should contact jan@triathlonbusinessintl.com
Special conference room rates are available at the conference host hotel the Mission Palms Resort, Tempe, AZ.
Conference partners include: ACTIVE (technology); Headsweats (headwear); Endurance Sportswire(media); MPA Event Graphics (corporate); Ashworth Awards (corporate); FinisherPix (corporate).
Follow TBI on Twitter and Facebook for the latest updates on the 2018 conference and information on our members. If you haven't signed up for the TBI newsletter, you can do it on the home page of the TBI website.
Tell us how can we improve this post?