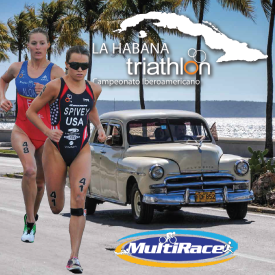 July 3, 2016 – Miami, Florida – Miami-based triathlon, duathlon and running events company, MultiRace, LLC, announced today that it has reached an agreement to acquire a stake in Eventos Latinoamerica. As part of its agreement, MultiRace, LLC will have the right to produce not only the La Habana Triathlon (which is part of the International Triathlon Union) but also other leading running and sporting events.
"I am excited to partner with MultiRace, LLC in this agreement as it provides Eventos Latinoamerica with a significant increase in experience and capabilities to help make La Habana Triathlon one of the sport's most important races worldwide and a must-attend venue for the sport's most elite athletes," said Jose Carrasco, Eventos Latinoamerica CEO.
As a result of the transaction, MultiRace, LLC has now positioned itself as the leading participatory sports event production company in partnership with Eventos Latinoamerica's experienced team with combined capabilities in Spain, the United States and Cuba. 
La Habana Triathlon is part of the ITU (International Triathlon Union) official calendar. This year, the winners of La Habana Triathlon were crowned the Ibero-American Champions and qualified for the 2016 Olympics. The February, 2017 La Habana Triathlon will consist of a half iron distance, sprint distance (which will be open to all interested participants), and an ITU Sprint triathlon.
"Our goal is to make the La Habana Triathlon a destination event and to serve as a model for cooperation and goodwill between the U.S. and Cuba. We are excited to announce this agreement with Eventos Latinoamerica, since it provides us a unique opportunity to expand the MultiRace, LLC brand to Havana, Cuba, while contributing the broadening of cultural exchanges between the U.S. and Cuba," said Joe DaGrosa Jr., MultiRace, LLC Chairman. He added, "We are continually looking for ways to expand our race offerings to make Cuba a global destination for triathletes, duathletes and runners from around the world."
Registration is now open for the February, 2017 La Habana Triathlon.  Due to the continuing improvement in U.S. – Cuba relations, the 1,000 available participant slots are expected to sell-out early. 
ABOUT MULTIRACE
MultiRace creates innovative, challenging and exciting triathlon, duathlon and running events that empower its racers to achieve their personal best. Established in 2002, MultiRace is the largest multiple-sport event management company in the State of Florida managing more than 30 endurance events scheduled for 2016.
Tell us how can we improve this post?